Restorative Yoga & Meditation Teacher Training (100 hrs) / March – July 2018
4 Modules at various dates from March till July 2018 – in the Netherlands & Belgium
Restorative Yoga & Meditation Teacher Training (100 hrs)
About the essence of this training
What makes you a "different" yoga teacher is the level of understanding that you have of yourself. The depth of your teaching has nothing to do with complicated yoga postures or performing. Yoga IS Life itself. How deep you want to go in your Life? That might be your uniqueness as a yoga teacher. It will define your style of teaching and the people you will attract!
In times where so many people become Yoga Teachers, want to make a living from teaching yoga and even travel the world with it… We need to find our uniqueness… To share it and make it our way to inspire others and contribute to the planet Earth. This is Yoga "on" and "off" the mat.
This training is a "self knowledge" oriented training. It's mainly based on the path of Self-Inquiry.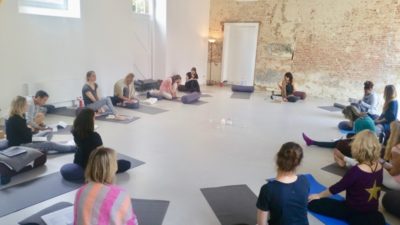 Conditionings and habits are constantly doubted and questioned in theory and practice during the training.
It will help you to allow aspects of yourself to be revealed. It will support you in peeling layers of a personality that can be confused (and at times, an obstacle) with the essence of who you really are.
This Restorative Yoga and Meditation TT welcomes everybody. Yet, you would get the most of its benefits if:

You are already a Yoga Teacher
You are doing another Yoga Teacher Training
You are a yoga student willing to dive deeper into the understanding of yourself with the intention of restoring and resetting your life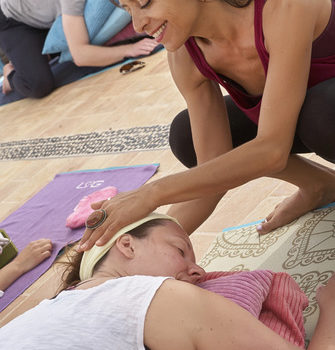 Restorative Yoga, because of its passive nature prepares the body-mind system for Meditation. We learn to listen to the body surrendering to the pose, accepting the moment as it is. It is a Yin (feminine/ passive) form called the "yoga of Being" opposite and yet balancing the Yang (masculine/ active) practice. Restorative Yoga is an oasis in our active lifestyle as it works mainly on the nervous system bringing calmness, relaxation, and clarity to make decisions and act. This training will provide you with new tools to take onto your own practice, teachings and into everyday life. It is an in-depth learning for a life in a higher vibration with awareness, acceptance of oneself, others and care for the planet Earth. One of the great advantages of this training is that it gives you at the practical and energetically levels the space to take your time to integrate and move on as you are ready for the next step.
"Drop the idea of becoming someone, because you are already a masterpiece. You cannot be improved. You have only to come to it, to know it, to realize it."
Osho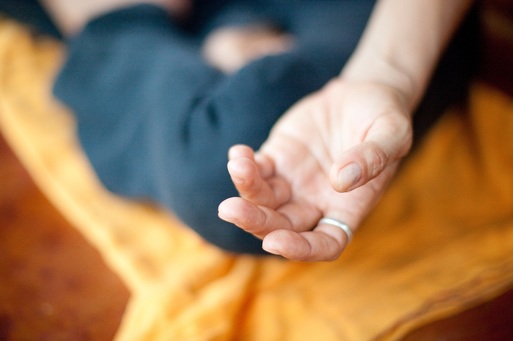 To make it more accessible you can also choose the country or city where the training is available and change location during the time the different Fundamentals are taught! For instance you might start it in a city in Holland and yet continue in another Dutch city and so on.
This Restorative Yoga and meditation Teacher training is done in 4 modules called "Fundamentals" (1, 2 , 3 & 4). "Fundamentals" need to be followed in order. Each module includes assignments: readings, observing classes, practicing teaching and more…
Price & Booking
The price for each module is 375,- Euro, incl. taxes (150,- Euro if you want to join for a single day)
Each module can be booked directly with the respective yoga studio. Just send them an email.
Please check the Studio & Booking details.
Accommodation is not included, but we are happy to help.
Content of each module
Restorative Yoga and Meditation Teacher Training – 100 hours
Content  Fundamentals 1 – 25 hours
Introduction to Restorative Yoga
How Restorative Yoga was developed
Restorative Yoga as a counter cultural yoga practice
RY as the practice of "Being"
The Benefits of RY and how to apply them to daily life
The pillars of Restorative Yoga
The practice of RY and the 8 limbs in the Patanjali's Yoga Sutra
Restorative Yoga floor orientated poses and Yin Yoga Poses
Description and daily practice: Forward bends, back bends, twists, side bends, inversions
Own practice and its understanding by the body mind system
The use of "props" in Restorative Yoga and its modifications
Understanding of the use of props in RY
The use of props adapted to different body structures and needs
The use of props as a "message" to the nervous system
Breathing exercises in a Restorative Yoga practice to support the holding of the poses and the cleansing process
Pranayama during the practice of RY
"Sigh" breath and its benefits
Anxiety, stress and the practice of "Sigh" breath
Mindfulness the meaning of letting go during the RY poses
Theory and practice of Mindfulness
The meaning of letting go
The connection of Mindfulness & letting go in the practice of RY
Meditation and Meditation techniques
Differences in Meditation and Meditation techniques
Meditation within the context of the 8 limbs in the Patanjali's Yoga Sutras
Learning and practice of different techniques of passive and active meditations
The benefits of Meditation
Own meditation practice
Meditation techniques suitable for different personalities
Recommended books
"The Yoga Sutras of Patanjali – Translation and Commentary by Sri Swami Satchi dananda"
"Relax & Renew: Restful Yoga for Stressful Times" by Judith Hanson Lasater
"The Orange Book" by Osho
"Meditations from the Mat: Daily Reflections on the Path of Yoga" by Rolf Gates & Katrina Kenison
Restorative Yoga and Meditation Teacher Training – 100 hours
Content  Fundamentals 2 – 25 hours
Review of Contents Fundamentals 1

How Restorative Yoga was developed
Restorative Yoga and Yin Yoga poses
Description and daily practice: Forward bends, back bends, twists, side bends, inversions and their modifications
Own practice and its understanding by the body mind system
Visualization: Directing the power of the Mind towards healing and wholeness

The thoughts as creative forces
Activating the intuitive force that lies within you
The subconscious mind
Visualization: technique and practice
Yoga Nidra and its practice in RY
Exercises of Self-Inquiry: Working with the Zen koan "Who Am I?"
The Self-Inquiry method: Practice and Purpose of Self-Inquiry
The Life changing question "Who Am I"
Alignment & yoga Adjusting through touch in Restorative Yoga
Introduction to mindful touch
Adjusting in RY: the difference with other styles of Yoga
Intuitive touch and adjustments
When to adjust and how to approach the student/client
Guiding adjustment as an alternative to "hands-on"
Using props to assist instead of "hands-on"
Knowing yourself: main tool for kind touch and "hands on"
Practicing & developing teaching skills
Verbal instructions and tone of voice
Guidelines toward focus and attention
Recommended books
"Relax & Renew: Restful Yoga for Stressful Times" by Judith Hanson Lasater (revision Fundamentals 1)
"Awakening the Spine" by Vanda Scaravelli
"Yoga Nidra" by Swami Satyananda Saraswati
A book on "mindful touch" from the student's choice
Restorative Yoga and Meditation Teacher Training – 100 hours
Content  Fundamentals 3 – 25 hours
Review of Contents Fundamentals 2
Restorative Yoga and Yin Yoga poses
Description and daily practice: Forward bends, back bends, twists, side bends, inversions and their modifications
Own practice and its understanding by the body mind system
The use of music during a yoga practice
The effect of music
Setting the tone of a class using music
The use of music in a RY class
The use of music in your own practice
The use of music in Yoga and its controversies
Practicing and sharing a RY class with music
The use of music in a Meditation practice and RY class
Observing other teachers in Restorative Yoga and Meditation classes
The Art of receiving and giving feedback
Constructive comments and supporting others to hold space
Creating classes and teaching to a group
Guidelines and preparing a RY class
Healthy Lifestyle: Restoring and re-setting the body into its natural ways of healing

Taking responsibility for your health as a yoga teacher
Having a balanced lifestyle as a responsibility as a yoga teacher
Yoga as a lifestyle
Yoga off the mat
Recommended books
Watch the documentary: "(Official Movie) THRIVE: What On Earth Will It Take?"
A book of the participant's choice on Meditation techniques
"Eating for Beauty" by David Wolfe
"Chakras & the Archetypes. Uniting Energy Awareness & Spiritual Growth" by Ambika Wauters
Restorative Yoga and Meditation Teacher Training – 100 hours
Content  Fundamentals 4 – 25 hours
Review of Contents Fundamentals 3
Practice of Yin Yoga asanas and Restorative Yoga Asanas
Each day includes asana practice, talks and Q&A.
General Anatomy in the practice of Yin and Restorative Yoga
Subtle and physical anatomy and physiology of the Yin and Restorative Yoga practice
Meridian theory and the movement of "chi" or "prana" in the body
The nervous system
Relevant modifications, contraindications and adjustments in Yin and Restorative yoga practice
Methods for Body Cleanse & Detoxing process
Body Detox for a clean energetic body
How and why to do a Body Cleanse
The detoxing process and its benefits for a yogi
Natural healing foods and Super Foods to tune into higher vibrations
The importance of a high vibrational diet and its connection with the yoga practice and a yogi's life
What foods are healing and how to adapt them to the specific environment
Creating the set-up to live in high vibration
Practical ways to support others to live in higher vibrations
Environmental awareness and the contribution of yoga teachers to a more kind and friendly planet

Proposals to contribute to an environmental friendly planet as a yoga teacher
The path of "green yoga"
The teaching of Yoga in different environments
Body movement and emotional release: from movement to stillness
Movement and dance as healing techniques
Movement and dance as meditation techniques
The skills of meditation, and the balancing nature of savasana and conscious relaxation
The practice of active meditation techniques to support emotional release
Reflection and the practice of Silence and Meditation
Learning the practice of Silence and "non-doing"
Incorporating Silence to your daily life
What is a Silence retreat and its benefits in your everyday life
Main essential skills of a yoga teacher in the practice and teaching of Restorative Yoga
Recommended books
"Light on Yoga" by B.K.S. Iyengar
"The Heart of Yoga. Developing a personal practice" by T.K.V. Disikachar
"Yoga Mind, Body & Spirit" by Donna Farhi

"The Complete Guide to Yin Yoga: The Philosophy and Practice of Yin Yoga" by Bernie Clark and Sarah Powers
"Yin Yoga" by Paul Grilley
"Insight Yoga" by Sarah Powers and Paul Grilley
Veda Ela is an International Yoga Teacher who is passionate about sharing the path of a yogic life style. She is a Dancer, Yoga & Meditation teacher who studied in India and Europe. She travels and teaches in Argentina, Costa Rica, India, Holland, Belgium, Germany, Spain, Ibiza and Mallorca. Veda Ela studied Classical Ballet, Contemporary Dance and various forms of Hatha Yoga and Meditation techniques. She also holds a degree in Philosophy and Literature.
She has over 25 years of experience in supporting people finding more comfort, clarity and joy on the mat and into their lives."
Decades ago while living in India, Ela fell in love with yoga under the guidance of yoga Master Indra Devi (from the Krishnamacharya tradition). Veda Ela has been also influenced by the style of yoga teachers in the West like: Judith Lassater, Shiva Rea, John Friend, Rodney Yee and Sarah Powers amongst many others. Veda Ela's teaching have been continuously evolving, finally leading into the creation of her own style that merges the eastern and western traditions.
She works according to the level of the students mainly with a gentle but powerful flow of asanas, Yin & Restorative Yoga, Breath Awareness, Meditation and Self-enquiry, creating space to rest within moments of stillness and opening the door to Silence.
Veda Ela loves music and considers it essential in her daily life. "Music can change your mood, heal and help transform your life" she says. As a Dj she used to be, music is an inspiring element in her yoga work.
Ela brings passion, sincerity and presence into her classes, workshops and Teacher Trainings, imparting a sense of enthusiasm, curiosity and acceptance towards the yoga practice.
She lives and teaches in Pachamama. She is one of the pioneers of this Eco-village with an alternative lifestyle located in the pristine forest of Costa Rica. PachaMama is based in awareness, meditation and the respect for Mother Earth and the environment. From April to July Ela travels to Europe to share her classes, workshops, retreats and Yoga Teacher Trainings.
For more information about her work and schedule, visit: "www.vedaelayoga.com".